Book
Dateline Vermont
by Chris Graff
The inside story of how Vermont transformed itself from a rural, Republican outpost into the state of Howard Dean, Jim Jeffords, Pat Leahy and Bernie Sanders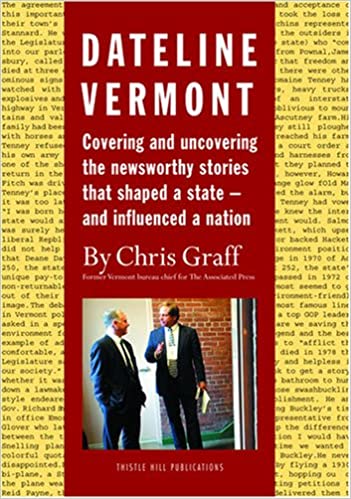 The Inside Story
December 22, 2006
by John P. Gregg, Valley News Political Editor
Valley News
Almost two decades ago, when I was a young and hungry reporter for United Press International in Boston, a colleague hit the nail on the head when she described the exhilaration of working for a wire service, especially on a big story.

It's like sex, she said. You go and go and go and have this great feeling when it hits the wire. Then, 10 minutes later, you're off on another story.

Chris Graff, the former longtime Associated Press bureau chief in Montpelier, captures the excitement of the reporting life in his new book, Dateline Vermont: Covering and uncovering the newsworthy stories that shaped a state -- and influenced a nation.

And he does it in a way that brings Vermont's recent political history -- and real characters -- alive again, especially for those us who weren't here for the original telling but have an interest in the state.

(If, like most of America, you have no idea -- yet -- who Bernie Sanders is, this book may not be for you).

There's Rutland state Sen. Gilbert Godnick, known for "gillyisms" such as, "We'll burn that bridge when we get to it;" Jim Jeffords, new to Congress, sleeping in a travel camper behind a Holiday Inn in suburban Maryland to save money; and supporters of Madeleine Kunin wearing "Broads for Madeleine" buttons after her Republican opponent shot himself in the foot with a sexist comment.

With his ear for dialogue and detail, Graff, who lost his AP job last March in a much-disputed sacking (more on that later), knows how to tell a good story. For anyone interested in seeing how reporters interact with politicians, Graff's book provides plenty of fodder.

Like many of us in the trade, Graff started out with what was both a miserable, and thrilling, job. In his case, it was working for a small radio station in Middlebury right after graduating in 1975.

Graff and his bride, Nancy Price, had only one car, and he recounts riding his bicycle, "tie flapping in the wind," to cover many stories, sometimes beating rescue workers to car accidents.

In 1978, he moved to The Associated Press in Montpelier, and covered several momentous news events. The death in office of Richard Snelling, after which Howard Dean became governor. The state Supreme Court decision that led to Vermont's landmark civil unions law. And Jeffords' emotional decision to leave the Republican Party, shifting the balance of power in Washington.

Graff did much of his reporting from a perch evoking days gone by in journalism. For most of his tenure, the AP bureau in Montpelier was above a bar, on the second floor of The Thrush Tavern. It offered a view of a key part of the Statehouse, and Graff describes how he would race out for many a "parking lot ambush" when he needed to get information or a quote from an official in state government.

In one paragraph, Graff captures the intense demands on a wire reporter as he recalls the morning in 1991 when Snelling was found dead of a heart attack by his pool.

"I sat down and began to write, operating almost on autopilot. I wrote the story on Snelling's death, updating it more than a dozen times, wrote a more complete obituary and then added a news analysis about this most complex person. I went up to the State House to attend Dean's swearing-in in the afternoon, and then again late in the day. I was emotionally spent, and I went to the place where I would feel most acutely the loss of a man who was so much larger than life. I didn't go to be consoled, but to remember."

Reporters in Graff's mold are trained to be dispassionate, and for all the vivid stories in the book, as a memoir it is often spare.

The first chapter is poignant, but ultimately hopeful, covering Graff's arrival in Vermont at age 11 in 1965. His father had died nine months earlier and his mother, with three children, had married Bert McCord, a retired drama critic with the New York Herald Tribune.

McCord had turned an abandoned hill farm in North Pomfret into a gentleman's farm, and Graff was a young boy who had lost his father and been yanked away from Westport, Conn., to what seemed like Siberia.

"In my mind, no country portrayed in National Geographic looked more remote and less inviting than North Pomfret," Graff writes. "I was an eleven-year-old adolescent with an unusual amount on my plate. "I mourned my situation by wearing a black armband every day, but in time, thanks to my stepfather's love and patience, I began to come around to the opposite side of the fence."

He saw part of the old Vermont, learning the words to the ballad The Hartford Wreck from old-timer Harold Harrington, but also saw the changes that came with the opening of the interstates. And years after he first visited the Statehouse on a field trip from Woodstock Elementary School -- he most remembers the basement restrooms -- Graff himself became a regular in the Statehouse.

One of the book's most telling passages may be inadvertently so. Graff describes the day in January 2003 when Dean was giving his final news conference as governor, about to leave office and embark on his presidential campaign.

When Dean, still then an obscure figure on the national stage, talked about whether he would soon be recognized in public, Graff said, "If they don't start recognizing you, Governor, come home."

"I'll tell you something, Chris. No matter what happens, this will always be home," Dean replied.

Home implies comfort, and there's no question that over the years many Vermont politicians felt comfortable talking to Graff.

After years of keeping it hidden as governor, Dean, about to run for president, gave Graff the details of his family's agonizing search for information about his brother Charlie, who was killed in Laos in 1974. When it became apparent that the public had to know more about Judy Dean, a physician who shied away from the spotlight around her husband, the Dean campaign again gave Graff an exclusive.

"The national press could not believe that Dean had been governor for almost twelve years and no reporter in Vermont had yet interviewed or profiled Judy Dean," Graff writes. "They were equally shocked that no member of the Vermont press corps had demanded that we be allowed to see her."

I have long believed that Graff's style of reporting -- fair but not in your face -- has helped keep Vermont politics civil, but perhaps excessively so at times.

What would be regarded as the regular rough-and-tumble of a political campaign in many other states is still denounced in Vermont as virulent negative advertising.

And when, in April 2005, Jeffords announced his retirement by reading from a script that acknowledged his memory was at times failing, not a single reporter, myself included, shouted out a question as Jeffords left the podium. (Graff himself was there, and commented on the abundance of decorum).

Graff -- who was generous to me as a professional colleague, and invited me onto his Vermont Public Television show several times -- is polite to his subjects, but he was also a thorough, balanced reporter. As he recounts in the book, AP during the 1988 U.S. House campaign got under Bernie Sanders' skin -- granted, not the hardest thing in the world to do" prompting Sanders to try to turn the tables. Sanders, who was complaining that his independent campaign wasn't getting enough coverage, barged into the AP bureau one day, with a 60 Minutes camera crew in tow. Graff explains that he prefers to cover actual issues, not made-for-the-media news conferences designed simply to garner publicity for a candidate.

And when Sanders was a freshman congressman, Graff traveled to Washington in 1991 and wrote a series about how Sanders' strong opinions threatened his effectiveness with his new colleagues, quoting several by name. Sanders complained at the time that Graff had a "personal vendetta," but the lawmaker's anger on the subject has long since dissipated.

Graff also deserves credit for openly acknowledging in the book what must have been one of the most frustrating experiences of his career. When his son, Garrett, took a job as a press aide in Dean's presidential campaign, Graff faced an obvious conflict of interest, and AP officials, correctly, decided Graff couldn't write or edit any stories about the campaign.

They had encouraged Graff to ask Garrett not to work for Dean, but, Graff wrote, "I said that he was an adult and I would not stand in his way." Good for the father, I say, even if it cost him the chance to cover Dean's meteoric rise and fall.

If there is one weak spot in the book, it is understandable. It comes in the epilogue, a chapter describing the abrupt decision by AP officials to fire Graff.

As head of the Montpelier bureau, Graff had posted on the AP wire in the winter of 2006 a piece by U.S. Sen. Patrick Leahy, D-Vt., on government secrecy as part of "Sunshine Week," an AP-backed effort to promote the public's right to know.

Graff notes that he had posted a Sunshine Week piece by Leahy in 2005 without any complaints or trouble, but a key point should be considered. The first piece was essentially nonpartisan. Leahy's 2006 version, by contrast, opened with a sentence that blasted the Bush White House as "openly hostile to the public's right to know," and went on to say how.

I, and many other journalists who know Graff, think AP badly overreacted in firing a talented, experienced newsman. But posting the Leahy piece, given its aggressive criticism of the Bush White House, without offering a rebuttal from the Republicans was a mistake, a minor one, in my mind. Graff is precluded as part of his severance agreement from "speculating publicly" about why he was fired, and if he disagrees with my opinion here, who can blame him?

Needless to say, the firing robbed Graff of an elemental part of his identity. "My career as a journalist was over. In the months ahead I would grieve as if some essential part of me had been ripped away," he writes.

To his credit, instead of moping, Graff turned his energy to writing Dateline Vermont. Now, his life at AP over, he has left journalism altogether to take a job as a corporate spokesman for National Life Group in Montpelier.

The state's reporting corps clearly has lost someone with an invaluable institutional memory, but Graff also has gone out in style, with an entertaining book detailing critical years in Vermont's evolution.

Unlike so many other memoirs, Graff doesn't pat himself on the back or put himself on the couch. But, like the many stories he filed over the years, it's easy to read the book and come to a conclusion -- in this case, that Chris Graff is a man who loves Vermont, and has done his part to make it better.