Book
Dateline Vermont
by Chris Graff
The inside story of how Vermont transformed itself from a rural, Republican outpost into the state of Howard Dean, Jim Jeffords, Pat Leahy and Bernie Sanders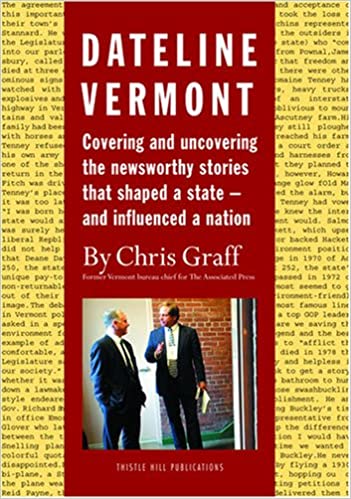 Graff recounts years of Vermont news
December 10, 2006
by Terri Hallenbeck, Staff Writer
The Burlington Free Press
There's one anecdote in Chris Graff's book "Dateline Vermont" that is particularly telling about both his 30-year career covering Vermont news and the nature of the state itself.

Graff was a freshman at Middlebury College, sitting in the student center, when the campus radio station news director came out looking for someone to cover the funeral of U.S. Sen. Winston Prouty. The news director was particularly ambitious. Graff was eager to give it a shot.

That news director was Jim Douglas. Graff would go on to a career as a journalist, covering the political career of Douglas, who would go on to become governor.

It's one example among many of the small stage on which Vermont events play out that Graff chronicles in the book, published last month by Thistle Hill Productions in North Pomfret.

Graff's journalism career ended abruptly this year when he was fired from his job as Vermont bureau chief by the Associated Press. That unceremonious ending allowed Graff the opportunity to chronicle the years he spent covering Vermont's most significant news events. He reveals tidbits about the characters and the events that readers might either not know or will enjoy revisiting.

The book provides a compelling, easy-to-read account of modern Vermont history with a heavy emphasis on the state's politics. Graff exhibits an extraordinary memory and record-keeping ability in telling tales of events from Prouty's funeral to Howard Dean's unlikely presidential bid.

Those tales reveal the quirks of politicians: Gov. Richard Snelling's "endless energy"; Lt. Gov. T. Garry Buckley's "swashbuckling style"; Sen. Jim Jeffords' tears and triumph during his famous party switch; Dean's surprising transformation into a rock-star style performer on the presidential stump.

Graff recounts letters and calls at home from governors, complaining sometimes about a single word he or one of his AP staffers had written. Snelling was particularly defensive. Gov. Madeleine Kunin was remarkably shy with the media when she took office. Dean was very protective of his personal life. Rep. Bernie Sanders was the thorniest of them all.

Graff sometimes heard from politicians with alarming speed. He tells the story of giving a speech to a business group in 2001 in which he said there didn't appear to be any Republicans on the horizon who could be elected governor.

"Within minutes after I returned to my office, the phone rang. 'Sooooooo, you don't think that there are any Republicans who can be elected governor,' said Jim Douglas with a laugh. I was surprised that word of my comments had already made their way back to him, and embarrassed that I had not even mentioned his name."

That small-world, Vermont-style proximity popped up again after Dean launched his presidential campaign. When Graff's son, Garrett, went to work for Dean, the Associated Press suggested that Graff ask him not to do so. When he declined, Graff was prohibited from covering Dean or editing stories about him.

"It meant that after spending almost 12 years covering a politician, and becoming, in the process, one of the nation's most experienced analysts of Dean's behavior and policies, I would not be able to cover a presidential campaign that was accelerating and taking exciting, surprising turns," Graff wrote.

Ultimately, Graff was fired for allowing Sen. Patrick Leahy to write a column for Sunshine Week that the AP considered too partisan. Anyone hoping for more dirt on the firing won't find it in the book, though Graff shares the tumult that it caused.

Again, Vermont's small stage would come into play. Douglas, Leahy, Jeffords and Sanders wrote letters to AP to express their outrage at his firing. Despite the support, Graff describes the firing as akin to a death. The seat he had at the Vermont theater was not one he'd give up voluntarily.

"My career as a journalist was over. In the months ahead I would grieve as if some essential part of me had been ripped away."