Book
Dateline Vermont
by Chris Graff
The inside story of how Vermont transformed itself from a rural, Republican outpost into the state of Howard Dean, Jim Jeffords, Pat Leahy and Bernie Sanders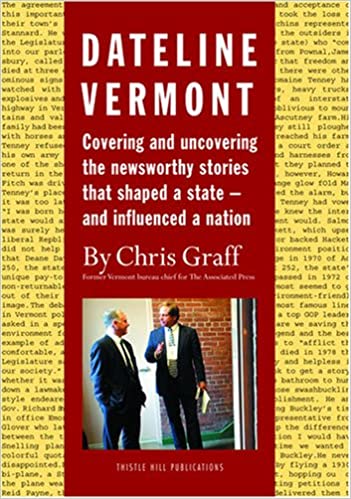 Stocking Stuffer Extraordinaire!
November 26, 2006
by Peter Freyne
Seven Days
"It is hard to remember today how little we thought of Dean when he assumed the governor's office in 1991. We now have the perspective of his almost twelve years in office and his presidential run, but in August 1991, most insiders saw him as a lightweight. And a liberal one, at that. "(p.79)

Ah, memories! Thank you Chris Graff for gathering them all up in one marvelous volume titled "Dateline Vermont - Covering and uncovering the newsworthy stories that shaped a state - and influenced a nation."

The new must-have for Vermont political junkies and history buffs should be hitting Vermont bookshops this week just in time for Christmas. You'll also find it here and here.

It's the perfect, long-awaited update to State Sen. Bill Doyle's "The Vermont Political Tradition - and those who helped make it." The new Graff book takes us from the "Difficult 1960s" all the way through his firing last March as the longtime Montpeculiar bureau chief of the Associated Press. And tacked on the end are "The Top 20 Stories of the 20th Century" and "The 10 Most Influential Vermonters of the 20th Century."

A great read and the perfect stocking stuffer!

Also plenty of information you haven't heard before. For example, I never knew that when current Gov. Jim Douglas was first elected to the State House way back in 1972, he was driving on a Massachusetts drivers license! (p.30)

Or that Chris stopped covering or editing stories about Howard Dean's presidential quest because he refused the suggestion of his AP bosses to get his son Garrett not to work for Dean for America.

For those of you who lived through it, "Dateline Vermont" will certainly jog the memory banks. Well done!

Thanks, Chris.

And Chris Graff will be Bob Kinzel's guest on VPR's "Switchboard" this coming Tuesday evening [November 28, 2006] at 7 p.m.